Monument to Shishkin
Though Shishkins family in Elabuga has done much for the city (city's electrification, construction of water supply and sewage system, restoration of archaeological memorial "Devil's fort"), and worldwide fame of glorious son of Elabuga – Ivan Ivanovych Shishkin, monument to great painter was opened as soon as 1991.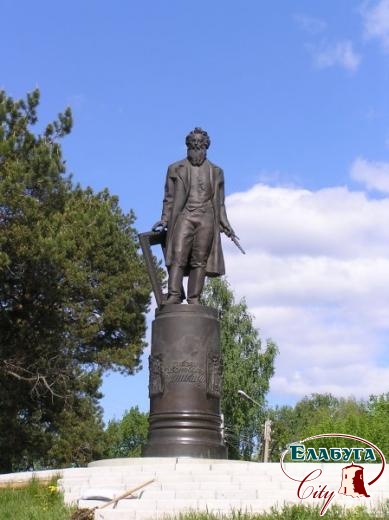 The monument is placed on Naberezhnaya str., near the house-museum of Shishkin and memorial to Great Patriotic War. Sculptor Y. Orehov worked on creation of the monument. Ivan Ivanovich is represented on the monument full-length, with brushes in one hand and frame of a painting in the other, with his eyes directed to the beauties of Elabuga nature – to the direction of Shishkinskie ponds and river Toyma. It's notable that just behind the monument, in an age-old wooden house there is children's art school of Ivan Ivanovich Shishkin, as young painters have an example to follow!