Special economic zone "Alabuga"
Special economic zone of industrial-production type "Alabuga" is on the territory of Elabuga region of the Republic of Tatarstan. Special economic zone of industrial type "Alabuga" was established by Russian Federation Government Decree ? 784 dated on 21.12.2005.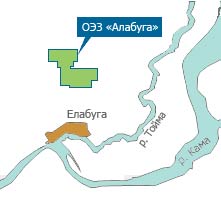 The main purpose of SEZ's "Alabuga" activity is to assist the economic development of the Republic of Tatarstan and Russian Federation as a whole by creating more favourable conditions for realization of investment projects in industrial production by Russian and international companies.
Industrial-production orientation of SEZ includes production of automotive components, a full cycle of automobile production, chemical and petrochemical industry, manufacturing, pharmaceutical industry, aircraft industry, furniture production and more.
SEZ "Alabuga" is located in central part of Russian Federation, that's why transportation of imported raw materials for processing and their further re-export looks just pointless. Russia has a large resource base for processing and production of final goods, and Russian domestic market of goods constantly grows and requires the development of import-substituting productions. So, the practical purpose of SEZ "Alabuga" is the arrangement of import-substituting productions of Russian raw materials. Those are the tasks SEZ "Alabuga" infrastructure creation is aimed on.
Learning the experience of other countries showed that the project that will be implemented in the Republic of Tatarstan is unique in its tasks and conditions. Tatarstan is one of the most economically developed regions of Russia. The Republic is located in the centre of a large industrial area, where oil production (OJSC "Tatneft"), oil refining, petrochemical complex (OJSC "Nizhnekamskneftehim", OJSC "Kazanorgsintez", OJSC "Nizhnekamskshina", etc.), machine-building (OJSC "KAMAZ", OJSC "Sollers") and aircraft are developed.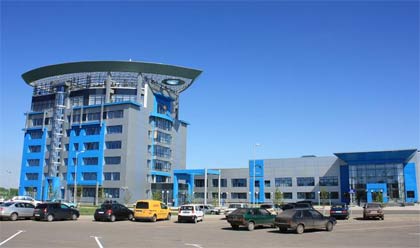 Special economic zone "Alabuga" is located in Kama industrial unit with population of about 1 million people. To provide the production with human resources the potential of closest cities will be exploited, the cities are Elabuga, Naberezhnye Chelny, Nizhnekamsk, Mendeleevsk. These cities have a complex of higher and secondary specialized educational institutions that train qualified personnel, including personnel for chemical industry and machine-building.
The total area of the SEZ is 20 square kilometres, divided into modules of 5, 10 and 20 hectares. Each module is connected to all the necessary communications – roads, electricity, heat, gas, water, high-speed communication lines and so on. The territory of the SEZ is crossed by a railway branch line, which will serve the largest land areas by branches leading directly to future corps. Now about 257 km of networks, more than 4 km of inter-roads, almost 5 km of railways are laid and exploited, 20 km of fencing are built on the territory of SEZ "Alabuga".
Administrative and business centre was set into operation, it has the office of SEZ's administration, office premises for residents of the zone and all the necessary items of business infrastructure – bank, post office, clinic, conference hall, restaurant, fitness room, etc.