Monument to samovar in Elabuga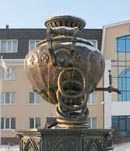 Elabuga is an extraordinary city, almost every year new monuments appear here. In December 2008 an interesting monument to samovar was opened – this indispensable attribute of age-old ceremony of tea drinking. Place for the unusual monument, symbol of merchant Elabuga, was adequate – on the square at Hotel "Toyma" – once this street was called Hlebnaya, now it is Lenin's Square.
According to the author of the unusual monument – Almaz Hakimov, samovar is a whole philosophy. When there were no TV-sets, no radio, it gathered the whole family at one table. Symbol of domestic comfort, for modern Elabuga it's also a symbol of its history that is gently kept and recollected by its inhabitants. In due time Elabuga was a famous merchants' city where many merchants of different guilds lived, and they were known not only for their commercial success but for sponsorship for the city.
Monument to samovar is 4 meters high, perhaps, this is the biggest samovar in the world, as the locals say. The main city's samovar is work of local smiths. The work lasted for several months and will glad townspeople and guests for many years.