Elabuga arms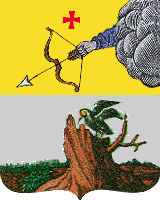 On May 28, 1781, by highest command of Empress Catherine II Elabuga city got "charter" with image of arms. It corresponded to a shield, part of Vyatka vicariate arms was shown on its upper part: "in golden field there is an arm appearing from a cloud that holds a bow and arrow, and over it in the upper part of shield there is a red cross". Being a city's symbol, this arms existed for two and a quarter centuries.
Spreading of arms in Russia is connected with name of Peter I, who adopted from Western Europe a tradition which he liked. In 1722 first king-of-arms office appeared and started to develop and assert arms. In XVIII century a principle of obligatory reflection in arms of typical sings of the city to which it is granted was approved in Russian heraldry. In 1780 as the result of province reform of 1775-80th, Vyatka vicariate that consisted of 13 districts was created, one of them became Elabuga's district. All 13 cities of vicariate got their arms at the same day – on May 28, 1781.
It's interesting that in the middle of XIX century for cities of Vyatka province new arms were created within the network of heraldic reform of that time, according to which territorial arms had to be composed by new rules, and arms that existed for that time had to be transformed. All innovations into heraldry were introduced by Baron B.V. Kene who in 1857 was appointed as governor of Heraldic branch of Senat heraldry department. Authority of B. Kene ideas was supported by fact that he was already known as author of Russian Empire arms project and arms of imperial family members.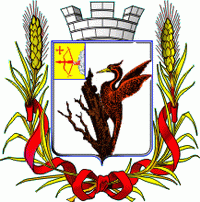 As a matter of fact, for the moment when village Trehsvjatskoie became a city and got its new name Elabuga (it happened on September 11, 1780), city's arms had a feature like image of practically two heraldic symbols: vicariate and city. According to this tradition, there is the emblem of our city in lower part of arms – "in silver field there is a woodpecker sitting on a stump and pecking it, as there are many birds of this kind there".
In the project of new arms, two golden ears surrounding its shield and interweaved with red ribbon indicated that the city is distinguished by agriculture and bread trading, and heraldic shield was crowned with silver tower crown with three peaks that indicated on district rank of the city. Contour drawings of these arms' projects were not approved for a set of reasons, they are now kept in St. Petersburg in State historic archive among materials of Russian Empire heraldry department. Date is marked on sheet with arms – 1859, and signatures of heraldry department officials are also there, including B. Kene's.
Regarding woodpecker on a stump depicted on arms, this view was typical for Elabuga and its outskirts. In XVIII century Elabuga residents fought with forest for living space, meter by meter. Stone buildings were not erected in our locality – this was an expensive delight, but there were no problems with wood. Wood was felled, huts were set on strong oak rows of beams. Many not stubbed rows stumps "decorated" the landscape and attracted birds, having become "home" for larvae of insects.
In 2006, for Elabuga's 1000 years, new arms of the city was approved, factually it copied the previous one.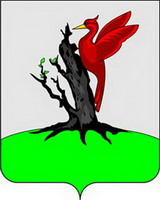 Description:
In a silver field on green land there is a black stump which has a branch with green leaves deviating to the right, on a stump there is a dark red woodpecker with golden eyes and beak, sitting with wings lift up and turned to the left.
Symbolism explanation:
Historical arms of Elabuga city of Vyatka vicariate was a base of modern Elabuga arms. Use of historical arms for a modern city emphasizes antiquity of Elabuga land, richness of traditions.
Main figure of the arms is woodpecker – traditional symbol of diligence, tirelessness, persistence. Composition of Elabuga arms presents the allegory of struggle between good and evil.
In heraldry gold symbolizes durability, generosity, wealth, abundance; silver symbolizes purity, nobility, peace, collaboration. Red colour is symbol of labour, courage, beauty and life. Green colour symbolizes spring, hope, nature and health. Black colour in heraldry symbolizes prudence, wisdom, modesty, honesty.
Approved by decision of Elabuga municipal council (?38) from August 8, 2006.