Kazan- Mother of God women's conven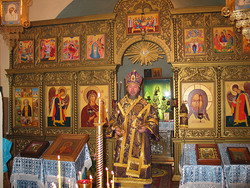 Women's convent (1868) was founded with the money of merchant I.I. Staheev. Architect G.A. Bosse erected monastic buildings. In 1857-1868 in the centre of convent main monastic temple in honour of Kazan icon of Mother of God appeared. From the eastern and northern part big three-storey stone buildings stood, cells of conventuals were placed there. Part of the northern building was occupied by monastic hospital, and in its eastern part in 1887 temple in honour of great martyr St. Barbara, still active, was arranged. On the western part of monastic yard, a small two-storey house of Mother Superior was placed.
After the revolution within the walls of the convent, children's park of People's Commissariat of Education was placed, but the temple continued functioning, and community of 150 nuns remained. In 1928 the authorities closed the convent: nuns were evicted, the temple and belfry were demolished to bricks. Only the temple foundation remained. Convent fence was also destroyed. Children's park stood within the walls of the convent until 1930, later in former convent buildings common dwelling was arranged. Since the beginning of Great Patriotic War and until 1949, camp of prisoners of war was on convent's territory.
In 1993 part of convent's premises was again transferred to Kazan diocese, and in 1995 – nuns community was restored.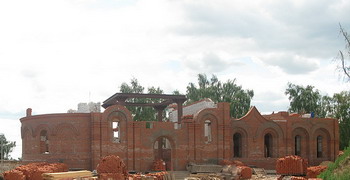 At present time, building of the main temple of cloister is held in honour of Kazan icon of Mother of God on the place of the destroyed one during Soviet time.