Monument to maecenas and writer D.I. Stakheev.
In October 2003 in Elabuga, in front of the century building of Elabuga State Teachers Training University (ESTTU, the former women's diocesan school), opening of monument to D.I. Staheev, famous Elabuga writer, maecenas and entrepreneur, took place. Two-meters-high bronze monument represents Dmitry Ivanovich sitting in old armchair. Dmitry was son on dynasty's founder Ivan Ivanovych Staheev, merchant of first guild, writer and journalist of the 19th century.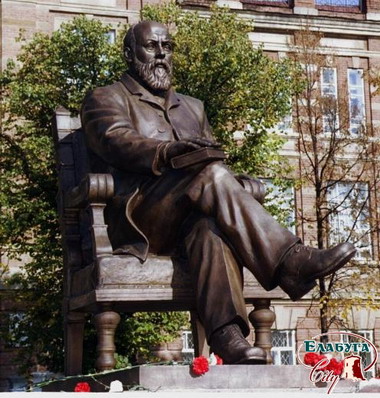 Place of monument installation – in front of the University – was chosen not accidentally. The University is the building constructed at the turn of the XIX-XX centuries by an amazing woman, hereditary honorary citizen Glafira Feodorovna Staheeva (1847-1927), who accomplished a real feat by building a monument of its kind – erected by a wife forevermore in memory of her dead husband – Vasily Grigoryevich Staheev (1842-1896). She was the one who laid pedagogic traditions of our city and continued philanthropic traditions of Elabuga merchants, who have traditionally spent huge amounts of money for charity not only in Elabuga, but all over Russia.