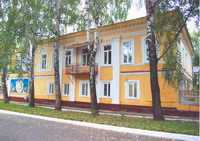 Elabuga is not only history and monuments, not only beautiful nature and mysterious myths, but also a rather modern town with developed infrastructure and branch of tourism, rest and entertainment. If you got to Elabuga, you will be offered various ways of rest and entertainment.
In this section of the site you may acquaint with recreation centres, sanatoriums available in Elabuga, where you may either just have rest in comfortable conditions being closer to nature or restore your health and peace of mind in sanatoriums. Most popular recreation centres, country clubs and sanatoriums of Elabuga are presented here.
If you are young in spirit and wish to hang out somewhere – this section is for you. Here the fullest list of entertaining establishments of the city is shown, for example, such as the known "Manhattan", "Brooklyn", night clubs, cinemas, bowling, billiards and even arbalest centre – all these at service of Elabuga guests.
And of course, it is impossible not to tell about the most traditional places of rest – cafe and restaurants. There are plenty of them in Elabuga, for any taste. Just look through the list and make your choice.