"Devil's fort" - of Elabuga fortress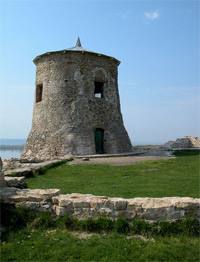 Stone tower of Elabuga fortress, the so-called "Devil's fort", – is the memorial to Bulgarian culture of ?-XIV centuries. It is placed on high cape at the outfall of river Toyma. Ruined remains of Bulgarian fortress-mosque, placed here, date to the XI century, not later. Military fortress called Ala-buga (piebald, grey, angry + bull, snake, strong) by Bulgarians, appeared on place of former fortified settlement of Ugry. Archaeological excavations indicate that there was a settlement here in Ananias (I millennium B.C.) and Pyanoborskiy (end of I millennium B.C.) historic periods.
During Bulgarian period the area of fortress increased almost twice (to 34000 square meters. Area of early Kazan was almost the same). This was the base station of Bulgarians in eastern Kama area. From the earliest times summer-winter crossing trough Kama was situated here. During Bulgarian period it becomes part of trade-caravan road from central regions of Bulgaria of the Volga to Middle and Superior Kama area and further to Arctic Ocean.
In the XII century on place of the sanctuary of former inhabitants of this land, white-stone mosque of square shape (21 x 21 meters) was constructed. It had eight towers and half-towers, structurally it was similar to cathedral mosques in Bilyar-Bolgar (IX-X? centuries) and Bolgar (?III-XIV centuries) and had the most close analogues in mosques-fortresses in Suss (Tunisia) and Bagdad. At present time remains of this mosque-castle are the only partially remained Bulgarian surface building of pre-Mongolian epoch.
In 1614-1616 on place of Elabuga fortress Holy Trinity Monastery was founded, abolished in 1764. At the same time monastic village was formed, later – village Podmonastyrka that saved its primary lifestyle and architecture
Corner tower of Elabuga fortress by its structure is a stone hollow cylinder with metallic roof in shape of low cupola. Its height is 7,1 meters, diameter of inner space is 5,7 meters. Thickness of the wall decreases from 2 meters at foot to 0,7 meters in the upper part, because of this lower part of architectural volume got a conic shape. Primary rough walling on calcareous solution with alabaster remained only from the northern part. In 1844 the tower crashed down. Only a small northern part with an arched doorway and a window under it remained. In 1867 by initiative of Elabuga head, merchant of II guild I.V. Shishkin, the crashed tower was restored on the old basement and covered with iron. Just then four rectangular windows in the upper part of the tower appeared.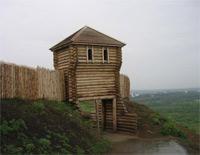 In 2007 the tower was again set in order: roof was changed, cleaned and conserved. Also, in this year ruined remains of the fortress were rebuilt on basement, restored during the 90-es of the last century. To give colour, in 2007 entrance gates and paling were rebuilt, pedestrian paths along the slope were laid, and benches were mounted.
The present memorial is under trusteeship of UNESCO.