Temple of great martyr Barbara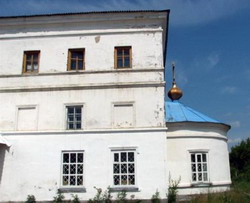 Dates back to 1887. Is placed on the territory of Kazan convent of the Virgin, in the eastern part of one of stone buildings. In the 20-es of the XX century it was closed, and renewed its work after restoration in 1995.
February 8, 1995, Kazan and Tatarstan Archbishop Anastasiy personally sanctified the restored temple of great martyr Barbara. Today it is the unique acting temple on the territory of convent. At present time is held building of the main temple of cloister in honour of Kazan icon of Mother of God on the place of the destroyed during Soviet time one. Besides this, repair works are held in sisterly buildings, restoration of monastic fence is planned. Since the moment of convent revival it is leaded by Mother Superior Vera (Shevchenko), monastic community is composed of 15 conventuals. Masses in the temple of great martyr are held every day.