Sanatorium "Cosmos"
Sanatorium-preventorium "Cosmos" is located in Shishkinskiy pine forest in the national park of Lower Kama, on Kriusha riverside that is tributary of Kama river, in 7 km from millennial city Elabuga. Sanatorium "Cosmos" offers comfortable three-storey buildings. Meals on customized menu.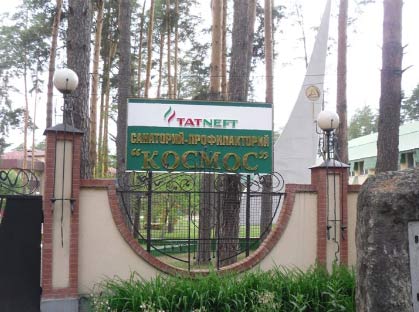 Such services are additionally available:
Conference-hall: 154/75 seats

Banquet hall: 100/100 seats

Equipment: conference hall with video projector

Business center: Fax, Copier, Communications, Intercity communication

Library

Medical room

Transport: Taxi, Guarded parking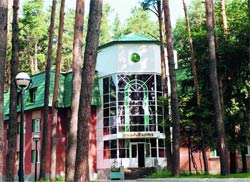 Medical profile of the sanatorium:
Gastrointestinal diseases

Diseases of musculoskeletal system

Respiratory Diseases

Diseases of circulatory system

General therapy

Pediatrics
Diagnosis and treatment:
Ultrasound diagnostics of internal organs, six-channel electrocardiograph

"Valenta", computer complex

"B

OS".

Carbonic dry baths "Reoboks", SPA-Alpha-capsule 2012, physiotherapy,

Paraffin-ozokeritotherapy, hand massage, sauna with swimming pool,

Department of hydrotherapy (baths, showers).
Coordinates:
Address: 423630 Elabuga, Tanaysky forest, 7 km.

Tel

: (85557) 2-77-68, 2-75-20, 2-71-69

Fax

: (85557) 2-75-20